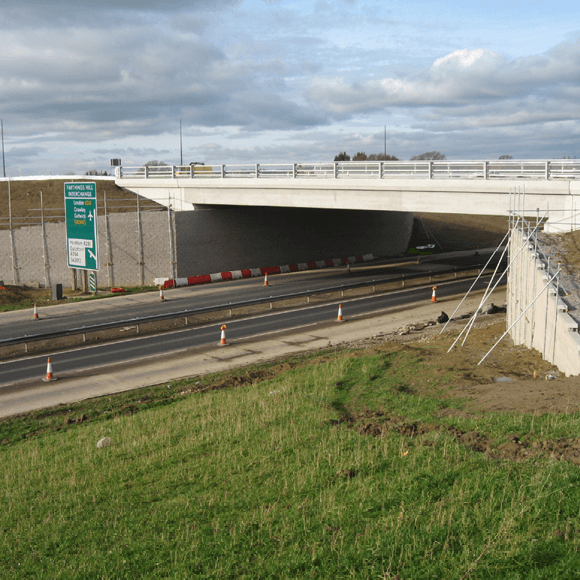 A24 BroadBridge Heath
Tensar's modular block retaining wall system ensured construction of a new road bridge over the A24 was completed quickly and safely.
Benefits
Robust & cost-effective bridge abutment and retaining wall solution
Fast construction minimising the impact on traffic on a busy trunk road
Modular system reduced construction risk during temporary works
Client's Challenge
Construction of a relief road linking two major housing schemes near Broadbridge Heath, in West Sussex, included building abridge over the A24. The structure, part of a new junction withthe busy dual carriageway, had to be built quickly, with minimum impact on both the main development works and traffic flow on the trunk road.
Tensar Solution
Tensar's TensarTech® TW3 retaining wall system was used to build the load bearing bridge abutments and wing walls for the new bridge. The geogrid-reinforced soil structures with mechanically connected concrete block facing, support the 28m span bridge deck. The modular system was fast and easy to install, reducing the number of crane lifts and keeping A24 lane closures to a minimum.