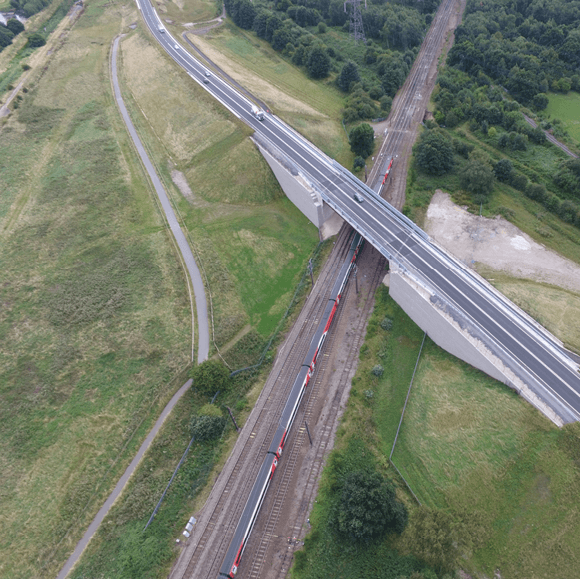 Great Yorkshire Way
Tensar's design of reinforced earth structures and wing walls helped reduce construction costs of a new road bridge over a mainline railway.
Benefits
Cost-effective retaining wall solution
Fast construction without the need for specialist plant and labour
Lightweight fill enabling the use of lightweight fill to cope with weak ground
Client's Challenge
Doncaster Metropolitan Borough Council wanted to reduce the cost of a new bridge carrying the Great Yorkshire Way over the East Coast Mainline. It chose vibro stone columns, rather than more expensive piles, to support the bridge's approach embankments with only the abutments requiring piling.This meant the reinforced earth structures had to be lightweight but have sufficient capacity to support the road above.
Tensar Solution
The abutment wing walls were built using theTensarTech® TW1 modular block retaining wall system, incorporating uniaxial geogrid to reinforce thelightweight fill behind. This economical solution helped reduced the overall bearing pressure of the reinforced earth structure, while meeting the loading requirements.