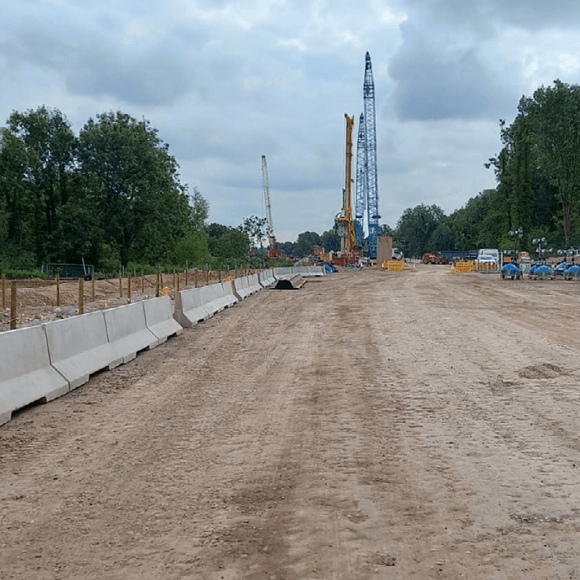 HS2 Colne Valley Viaduct
A total of 56 piers will span the 3.4km viaduct. Also, a working platform at each on-land pier location will be required, together with interconnected temporary site roads and compounds.
Benefits
40% CO2 savings estimated for working platform construction
25,000m3 reduction of imported fill estimated for site works
2,000 lorry movements taken off the road estimated from reduced import of quarried aggregates
£700,000 cost savings estimated against conventional stone only build-up
Mechanical stabilisation of granular layer avoided intrusive chemical treatment
Client's Challenge
The temporary site roads and working platforms in parts of the site were close to existing lakes with shallow ground- water encountered. A need to limit excavation above the groundwater table and avoid exacerbating disturbance of sensitive subgrade soils was key to ensure construction proceeded smoothly without delay on critical elements, such as the piling rig and crawler crane operations.
Tensar Solution
Tensar provided an indemnified design service which has RISQS accreditation for working in the Rail sector. The basis of the road design was a mechanically stabilised aggregate layer that would support dynamic loads from repeated vehicle axle movements (stone delivery vehicles, concrete mixers) in addition to tracked plant that would be travelling along the site road between platforms. At the working platform locations, additional static loading assessments were carried out for various rigs and crawler crane operations, utilising Tensar's T-Value working platform design methodology to optimise the construction depth thickness.