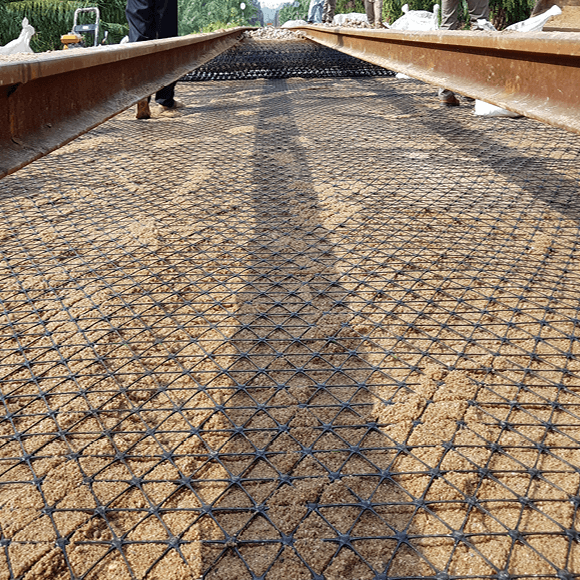 Gemas Metakab Railway
Replacing geocell with the proven performance of Tensar geogrids saved time and money for the rehabilitation works of a major railway line in Malaysia.
Benefits
50%-60% material cost savings through use of geogrids versus geocell
30%-50% savings in time from construction speed without the need to pin or tension geogrids
Reduced maintenance as a result of effective life-time confinement and stabilisation of ballast
Client's Challenge
Passing trains had caused fine grained soils to migrate up through the ballast along a stretch of the Gemas to Tumpat railway where it crossed areas of weak ground between Gemas and Mentakab, causing settlement and track alignment issues. The Public Works Department, investigating an alternative to a previous geocell solution, sought Tensar's advice for an economically attractive and rapid solution.
Tensar Solution
By using a single layer of Tensar geogrids below the ballast layer, the client was able to avoid expensive and slow ground improvement works through fill replacement or the geocell solution. The client's consultant was convinced with the immediate benefit of rapid installation of Tensar geogrids in addition to the long-term benefits of effective ballast confinement in mitigating both differential settlement and loss of ballast.