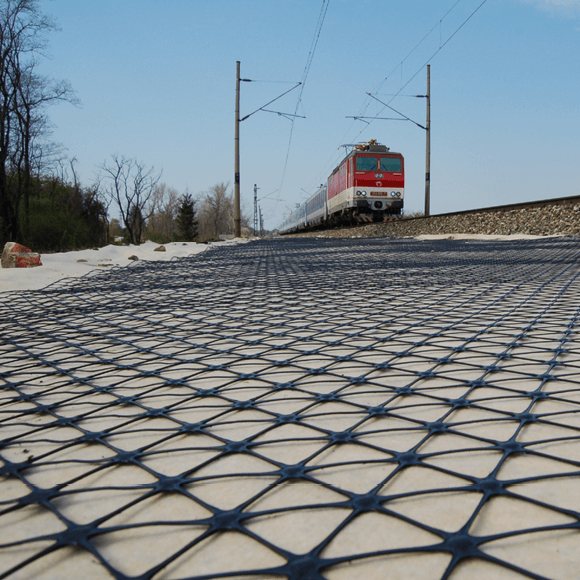 Rehabilitation of Curtici - Simeria Frontier Railway
Tensar geogrids played a key role in upgrading the Frontieră-Curtici-Simeria railway in Romania, enabling it to carry trains running at 160km/h, as part of the Pan-European Railway Corridor Line IV project.
Benefits
1.5M m2 of Tensar geogrid installed to increase line speeds to 160km/h
Reducing the rate of ballast settlement and traffic-induced degradation
Cutting excavation and material use, saving time and cost
Increasing time between maintenance events
Client's Challenge
Three sections of line were underlain by weak and highly saturated ground, which was unsuitable for meeting the increased train speeds and traffic loads. A high-performing and economical solution was needed to minimise excavation of the weak subgrade and replacement with sub-ballast, to provide a stable foundation for the upgraded track.
Tensar Solution
Tensar TriAx TX150 geogrid was used to mechanically stabilise the sub-ballast, improving the track's performance and reducing long-term settlement and traffic-induced degradation. The solution meant a thinner sub-ballast layer could be placed, compared with a non-stabilised layer, reducing excavation and saving time and cost.