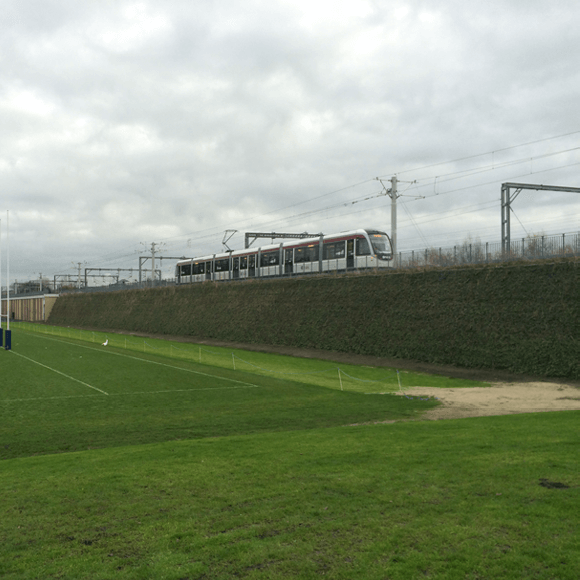 Murrayfield Stadium Tram Stop
Using Tensar's reinforced soil systems with both traditional and none traditional lightweight fills enabled an innovative approach for construction of elevated sections of Edinburgh's tramway which was on compressible, weak ground in places.
Benefits
Faster construction without the need for specialist plant and labour
Use of lightweight fill was enabled
Attractive range of architectural finishes
Intrusive ground treatment avoided
Client's Challenge
Graham Construction needed a technically robust and cost-effective way of building the reinforced soil structures and none load bearing bridge abutments carrying Edinburgh's tramway at many locations including Murrayfield. A primary aim was to minimise the amount of ground treatment or'excavate and replace' the underlying weak soils over some parts of the route.
Tensar Solution
Tensar's TensarTech® reinforced earth solutions enabled lightweight expanded clay aggregate fill to be used to build the reinforced soil structures between bridges that carry the tram route over roads and a river. TensarTech TW3 block walls formed near-vertical walls alongside a railway, as well as none load bearing abutments for the bridge crossings. TensarTech GreenSlope and TensarTech NaturalGreen systems created vegetated slopes up to 70° alongside rugby pitches next to the Murrayfield stadium.