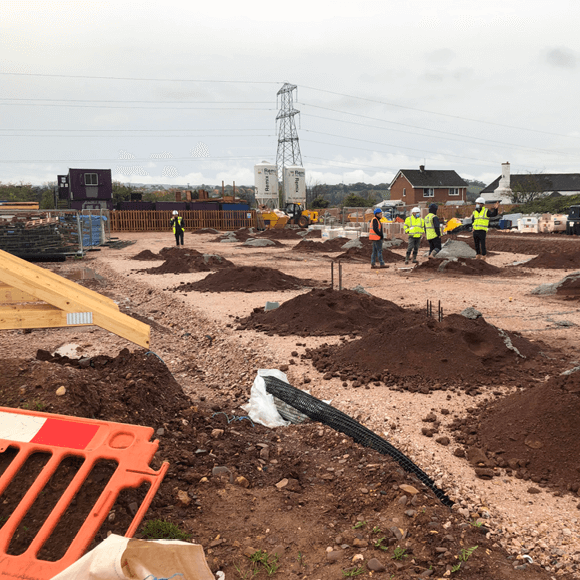 Riverside Housing Development
Analysis of the full benefits of stabilising geogridin aggregate, using Tensar's T-Value Method, reduced working platform thickness by 60%, on a housing development in Exeter, saving time, money and material use.
Benefits
60% reduction in working platform thickness
45% reduction in both construction cost and carbon emissions
Significant reduction in excavation, disposal and import of material
Client's Challenge
Taylor Wimpey's Riverside Walk housing development sitewas criss-crossed with areas of poorly compacted backfill above deep sewers, which meant some houses had to be built on piled foundations. The original working platform for the pilingrigs, designed using BR470 guidance, was substantial, at 750mm thick, so Taylor Wimpey approached Tensar fora value engineered alternative.
Tensar Solution
Tensar's T-Value Method demonstrated that, by using a geogrid to mechanically stabilise the working platform's aggregate, its thickness could be reduced to just 300mm, with no impact on bearing capacity or on load transfer efficiency. This helped cut construction costs by 45%, with significantly less excavation, disposal and import of material which resulted in an environmental benefit equivalent to a 45% reduction in CO2e emissions.