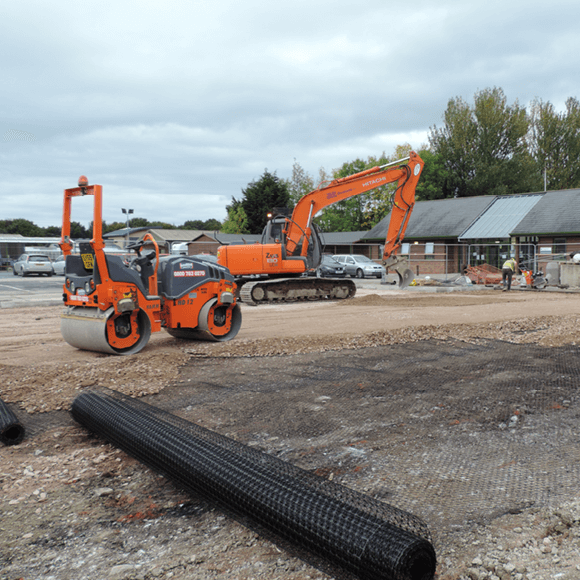 Orchard Place Housing Scheme
TriAx® geogrids, used to mechanically stabilise aggregate layers of construction roads overweak and variable ground, also provided a stable foundation for permanent roads on the Orchard Place housing scheme in King's Lynn, Norfolk.
Benefits
33% Reduction in volume of imported fill
£64,000 saved on flexible pavement construction
Mitigating risk of differential settlement
Client's Challenge
The Borough Council of King's Lynn and West Norfolk and housing developer Lovell needed to mitigate the risk of differential settlement of temporary access roads and 11,000m2 of paved areas over weak and variable ground on a residential scheme in King's Lynn, while minimising the import of engineered fill.
Tensar Solution
TriAx incorporated in unbound granular layers delivered access roads capable of carrying construction traffic. It helped to mitigate differential settlement, reduced the volume of imported fill by a third and cut construction costs by £5.80/m2 (a total of £64,000). These layers provided a stable foundation for permanent roads and parking areas, designed using Tensar's Spectra Pavement Optimisation system. The main road through the development was adopted by Norfolk County Council under a Section 38 agreement.